This giveaway is at
Bookaholic Does Reading
. It ends on January 18th. It is only open to followers of the blog. Here is an excerpt from their post: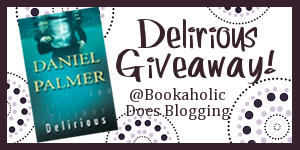 Up for grabs in this giveaway is a SIGNED advance reader copy of
Delirious
by Daniel Palmer.
Delirious
is about Charlie Giles, an electronics superstar, who sold his startup company to a giant Boston firm. One day, everything in Charlie's neatly ordered world starts to go terrifyingly wrong. His prestigious job and his inventions are wrenched away from him. His family is targeted, and his former employers are dying gruesomely, picked off one by one. Every sign, every shred of evidence, points to Charlie as a cold-blooded killer. And soon Charlie is unable to tell whether he's succumbed to the pressures of work and become the architect of his own destruction, or whether he's the victim of a relentless, diabolical attack.
This contest is open to current and new followers. Giveaway policy is as follows:

--You must be a follower to win.
--To enter you must fill out the form below or click here.
--Contest ends on January 18th.
--Winner will be announced in a blog post and notified within 2 days of contest closing.
--Winner has 3 days to respond to my e-mail notifying them they have won.
--If winner does not respond within 3 days, prize will be given to a new winner.
--Questions/Concerns regarding the giveaway can be asked via comment or e-mail sent to me at bookaholicdoesblogging [at] gmail [dot] com.

One entry per person, however, extra entries are allowed for: Twitter Followers, Facebook Fans, Copying the linked button below to your blog, becoming my friend on Goodreads, and posting about this giveaway on either your blog, Twitter, or Facebook. Extra entry possibilities are up to 9 additional entries (for a total of 10).